Do Indiana's New Moped Laws Go Far Enough to Protect Motorists?
By Steven Crell of Steve Crell Law posted in Moped Accidents on Thursday, January 8, 2015.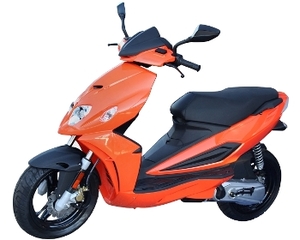 Almost every state in the country other than Indiana requires Mopeds (motorized bikes with engine sizes of 50 cubic centimeters or less) to follow the same laws that apply to other motorcycles. Riders have to be licensed and insured and the Mopeds have to be registered and plated. This promotes accountability when Moped Accidents occur.
Until January 1, 2015, Mopeds were completely unregulated in Indiana. This meant that riders with no licenses or suspended licenses could ride an unregistered Moped up to 30 miles per hour on Indiana streets anywhere and in any manner they wanted without fear of getting a ticket or being traced to Moped accidents. It also meant that stolen Mopeds were very hard to trace because they were not required to have license plates.
But does this really do anything to make Indiana motorists more safe? Moped riders still do not have to have a valid drivers' license, let alone a motorcycle endorsement. They still don't have to carry minimum insurance like other motorists. Yet they can still weave in and out of traffic at up to 35 miles per hour (yes, the speed limit is increased under the new regulations) and cause serious accidents and injuries to other motorists.
The new laws will likely help law enforcement locate stolen Mopeds more easily, and requiring riders to know their street signs and pay a fee to plate their motorized bikes could make them more conscientious drivers, but until Moped riders are bound to the same traffic laws and are required to be insured with minimum coverage, there is really little reason for Indiana motorists to feel any safer out on our streets. Does Indiana need to go further to protect motorists from unregulated and uninsured Moped riders? Should the same laws that apply to Motorcycle Accidents apply to Moped Accidents?
See a summary of the new regulations here: http://www.in.gov/bmv/3220.htm